Bitcoin is one of the most successful cryptocurrencies. It's short history if full of interesting facts and events which must be known by everyone who is dealing with it.
Today there are many dealers accepting bitcoins as payment. The payment system works without a central repository. Network node operators running the bitcoin system receive bitcoins as reward of their efforts.
Bitcoin historical performance since the beginning*
The most important performance factor of bitcoin is how much US dollars is a bitcoin worth? So let's see a BTC/USD chart since 2009: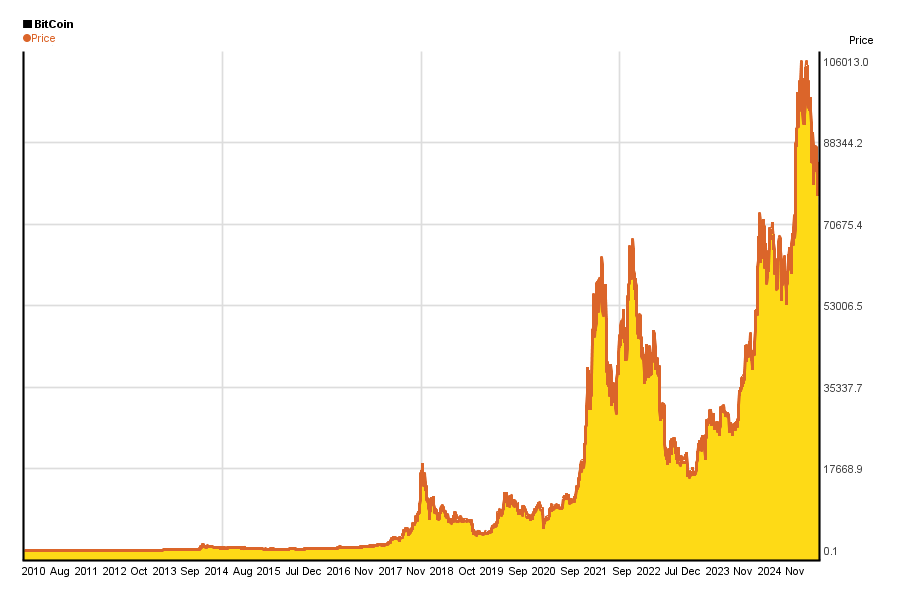 History of bitcoin goes back until 2008*, when the debt crysis broke out, too.
In H2, 2008 Bitcoin.org domain was registered and the project was registered at SourceForge.net.
In 2009, first bitcoin transactions happened. On October 5, New Liberty Standard published bitcoin exchange rate as $1 = 1,309.03 BTC.
In February, 2010, Bitcoin Market was established. In May 2010, first pizza (worth $25) has been paid with 10000 BTC (so 1 BTC was worth less than a cent). In July Mt. Gox was established.
In 2011 Bitcoin reached parity with the US dollar, touching $1 per BTC at MtGox. In June somebody issued sell orders for hundreds of thousands of fake bitcoins using and administrator account. MtGox's BTC/USD price fell from $17.51 per bitcoin to $0.01.
In 2013 there have already been multiple sites on the Internet where Bitcoin payments were accepted and in October the first bitcoin ATM has been deployed. A technical problem in March caused BTC price to fall by 23%, though price recovered fast. Shutdown of Silk Road by FBI in October also caused a serious drop in Bitcoin's price. Another drop in the price was caused by People's Bank of China on December 5, 2013 when they prohibited the use of bitcoin for financial institutions. (This happened right after the highest peak on the chart in 2013: -25% drop in 2 days, -60% in the next 6 months)
In February, 2014  Mt. Gox had filed for bankruptcy protection in Japan, and 744,000 bitcoins had also been stolen according to reports. In a different case, two persons were arrested in connection with money laundering and bitcoins. In the same year, 19.000 BTC were reported to be stolen from an account on BitStamp exchange.
In January, 2015 the first regulated bitcoin exchange has been started by CoinBase.
On 2017-12-18 BTC/USD exchange rate went to a new high of 19455. During the next 1,5 months price of bitcoins has dropped 65%.
Bitcoin's historical return compared to inflation and stock indices
If we compare BTC/USD exchange rate to DJIA or US CPI since 2010, it is easy to notice, that bitcoin exchange rate has risen so rapidly that both Dow Jones Industrial Average, and US CPI chart seem to be flat compared to it (even considering the very rapid fall of BTC/USD in the beginning of 2018):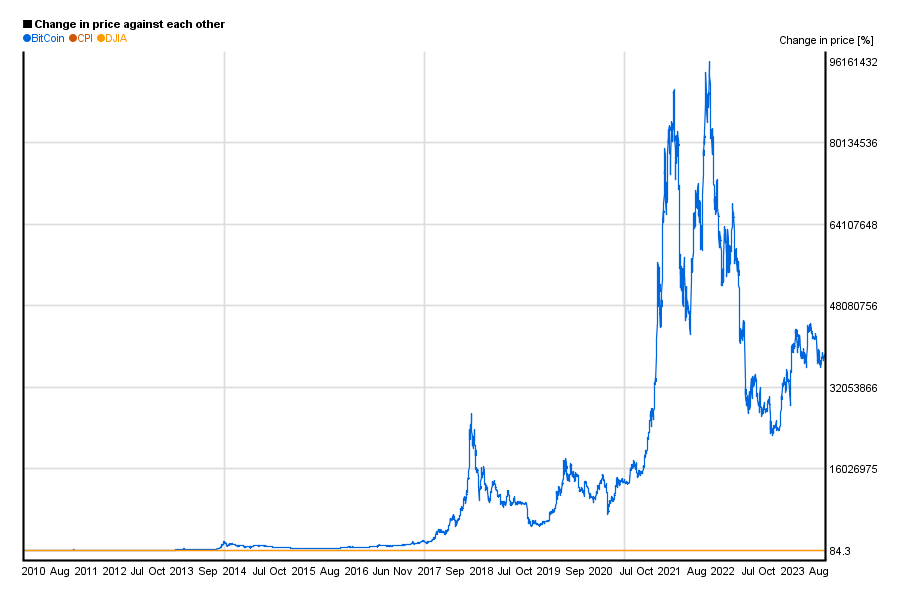 This means that BTC/USD's peak is 250000 times higher than the value back in 2010.
If we have a look at the same chart from 2013, where BTC/USD peaked, it looks like, that BTC has outperfmed its previous high a lot: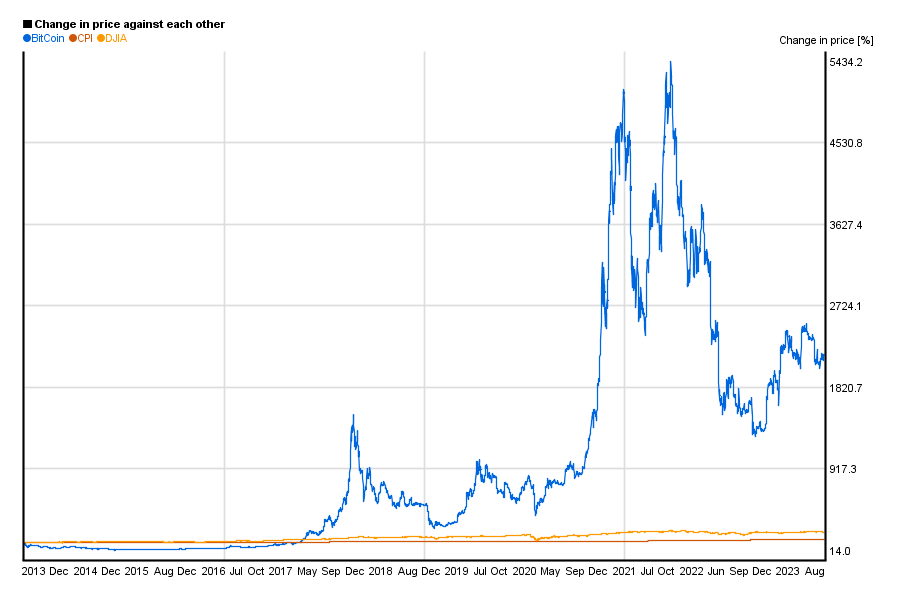 Despite the huge returns, there are also many warning signals: similar increase of the exchange rate is not very likely in the future, and the huge drops in price were not rare, so every investor should be very careful with bitcoins.
*charts are not updated on a daily basis but you can prepare similar charts for yourself by using Chartoasis Sesame. If you feel like analyzing bitcoin's historical price, you can do that for free at www.chartoasis.com/sesame .